4.3

Submitting a Flight Project

A Flight Project comprises of multiple sets of drone flights over defined period of time (up to 1 year) at a single area of operation per aircraft. The Flight Project as a whole can be reviewed and approved within the app, rather than reviewing each flight. All flight requests under an approved Flight Project are automatically approved and an email notice is sent to the local Drone Point of Contact.

Example Flight Projects
Recurrent flight operations on field stations that do not require scheduling
Regular flight activity in access-controlled construction sites
Ad-hoc flights by NRS staff or researchers
Weekly flights on the user's farm plots
A three-day workshop on campus where the location has been reserved
A Flight Project may not be edited once it has been approved. A separate Flight Project must be submitted if a new pilot is desired.
4.3.1

Manage Projects Page

The Manage Project page lists all of the Flight Projects that the user is listed as the Point of Contact or as one of the Pilots.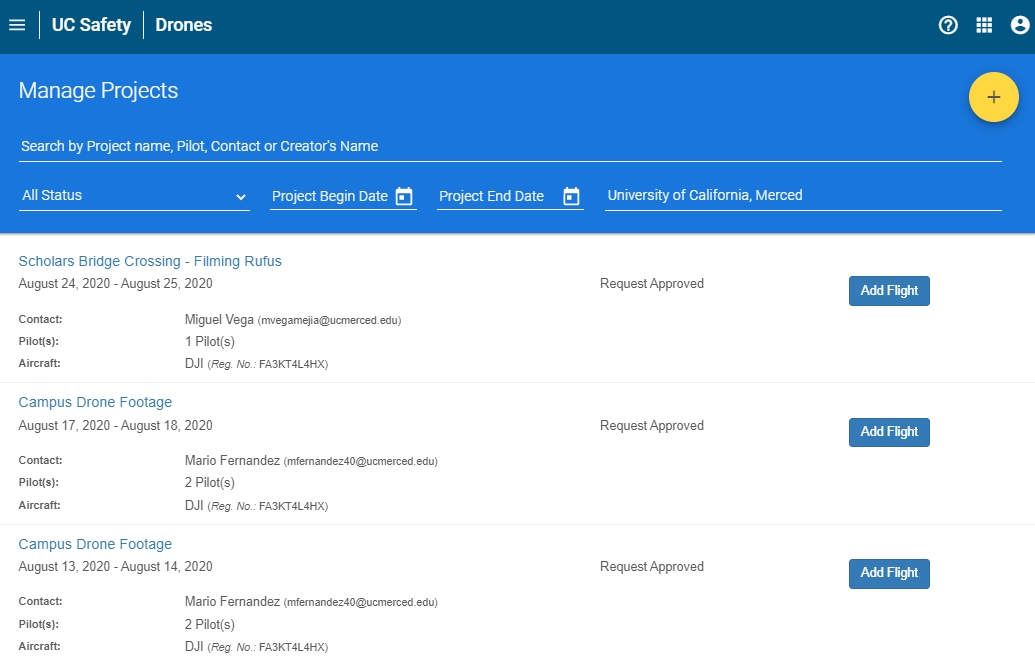 The list of projects is searchable by
Name of Project
Name of Pilot, Point of Contact or Creator
Status of Project Request: Draft, Pending Review, In Review, Request Reviewed, or Request Denied
Date Range to Search (Project Begin Date - Project End Date)
Each project is listed with the Project Name, the project date range, status of Project request, point of contact, the number of pilots associated with the Project and the aircraft for the project.
4.3.2

Project Request Form

To submit a Project request, go to the Manage Projects Page (Figure 4.4) and click on the yellow + (plus) button to go to the Project Information Page to start the request.
4.3.2.1

Enter Project Information

The following interactive module provides a breakdown on how to fill out a Project Request. The module requires a browser compatible with HTML5. If you are having difficulty viewing the interactive module, please contact us at UASsafety@ucmerced.edu.
4.3.3

Filing a Project Flight

On the Manage Project page, all approved projects will have a button to Add Flight as seen in Figure 4.4 or as in Figure 4.5. Clicking this button will direct the user to a file a Project Flight notification. This Flight notification will be mostly filled in already - the user will just need to select the date and time of the flight operation (selectable only within the project duration) and may modify the active Pilot (from the list of Project Pilots), or adjust the Risk Assessment, Observers and Comments sections.