4.2

UC Drone Home Page

The UC Drone Safety Home Page allows users to manage their drone flights, aircraft and their pilot information.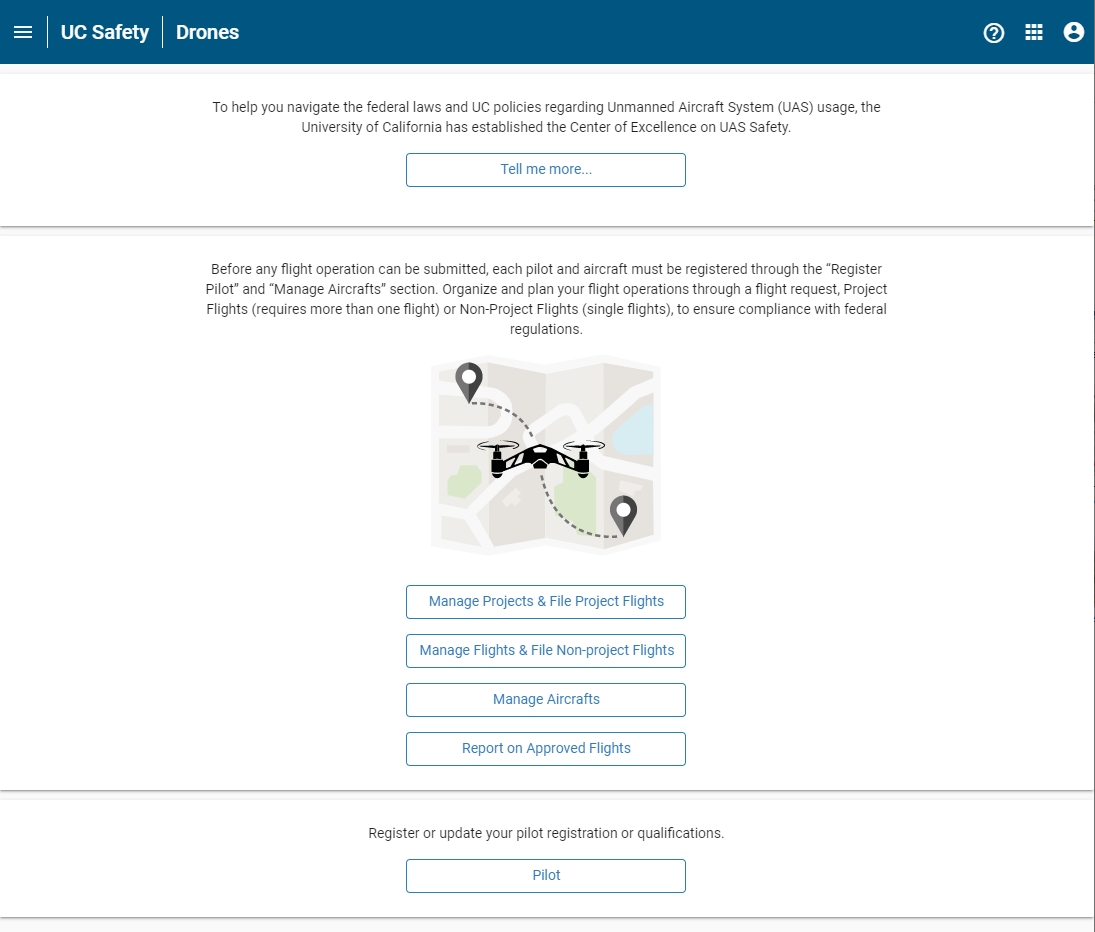 4.2.1

Projects and Flights

Within UC Drones, you have two types of Requests available:
Flight Projects
Individual Flights
4.2.1.1

Flight Project

A Flight Project comprises of multiple sets of drone flights over defined period of time (up to 1 year) at a single area of operation. The Flight Project as a whole can be reviewed and approved within the app, rather than reviewing each flight. All flight requests under an approved Flight Project are automatically approved and an email notice is sent to the local drone Point of Contact.

Example Flight Projects
Recurrent flight operations on field stations that do not require scheduling
Regular flight activity in access-controlled construction sites
Ad-hoc flights by NRS staff or researchers
Weekly flights on the user's farm plots
A three-day workshop on campus where the location has been reserved
A Flight Project may not be edited once it has been approved. A separate Flight Project must be submitted if a new pilot is desired.
4.2.1.2

Individual Flight Request

An individual Flight Request comprises of one or more drone flights on a single day. Each Flight Request is reviewed individually, typically to address local issues such as campus safety, scheduling or privacy concerns.

Example Individual Flight Requests
Any site that the field manager requires prior approval for scheduling or wildlife considerations
Athletic or recreational fields that require scheduling
On-campus public areas without additional mitigation protocols or safety hazard analysis.
Special operations – flying at night, flying above 400 ft AGL, etc
4.2.2

Manage Aircrafts

The Manage Aircrafts page allows the user to add aircraft for use in the UC Drones web app or edit their existing aircraft. All aircraft registered at a campus will be visible to all, but only the Responsible Person may edit the entry.
4.2.3

Report on Approved Flights

The Report on Approved Flights page lists all of the Approved Flights that the user is listed as either a pilot or the point of contact. The user can select any of the approved flights and Create a Post-Flight Report to complete the UC Drone Policy process.