Chapter 8

Crew Coordination Standards
8.1

Crew Participant Minimum

A member of the Flight Crew must be actively involved in the safety of the UAS activity - this includes participation in pre-flight activities such as planning and briefing, have a well-defined role during the UAS activity and post-flight cleanup. A spectator or spectator crowd may not be 'deputized' to a crew member status to circumvent FAA regulations regarding flight operations over people.
8.2

Pre-Flight Briefing

Briefing is an essential part of conducting UAS activity in a safe and efficient manner. On the day of the flight, prior to the start of UAS activity, the RPIC shall brief all Flight Personnel on the goals, objectives and key safety considerations of the planned UAS activity. The intent is to cover all operation aspects of the UAS activity and to promote full understanding among all Flight Personnel. The guidelines for conducting Flight Personnel briefings are listing below. At a minimum, the RPIC must cover the following in a briefing:
General Information about the Flight

Type of Flight (training, maintenance, normal)
UAS Status - condition, recent maintenance, fuel or battery state
Any mission issues the ground crew should be aware of?

Crew Members & their roles and responsibilities. List out by each of the flight phases:

Before launch
During flight
In case of an emergency
After landing

Mission Information

Primary mission goals, any secondary goals
Flight Path Detail - estimated duration, flight altitude, flight pattern
Landing & Recovery Procedures

Site Description and Hazard Analysis

Hazards and Risks
Boundaries
Areas of Concern
Non-participating Persons
Nearby airports or areas of air traffic

Weather

Current forecast
Weather forecast for the duration of the flight activity
Potential weather conditions to monitor

Communication Procedures

Chain of command
Communication phrasebook

Mission or Flight Stop/Pause Conditions

Go/No-Go Conditions (in-flight)
Mission Stop Checks (at what conditions should the overall mission be stopped)
Flight Stop Checks (at what conditions should an individual flight be stopped)
Flight Pause Checks (at what conditions should an individual flight be paused)

Emergency Management - Roles and Responsibilities during the following situations:

Non-participating person incursion in flight area
Hazardous Weather Conditions
Low Battery or UAS Status Issue
COllision with Hazard
Fly Away or Loss of GPS
Lost link or C2 link failure
In-Flight or Post-Flight Fire
Pilot Incapacitation
Manned Aircraft Encroachment in flight area

Remind the entire crew of the Sterile Cockpit Requirement
Public safety should be addressed at every briefing to mitigate all risks from UC flight operations.
8.3

Flight Team Member Positioning

The following factors should be considered when positioning the Flight Team members:
Visual coverage of the operating site
Position in relation to the sun to avoid visual impairment
Physical obstacles such as overhanging trees, rocks, buildings, power lines etc.
Terrain topography, avoid steep slopes or uneven ground
Effects such as wind shear from nearby trees, buildings etc
Proximity to buildings and structures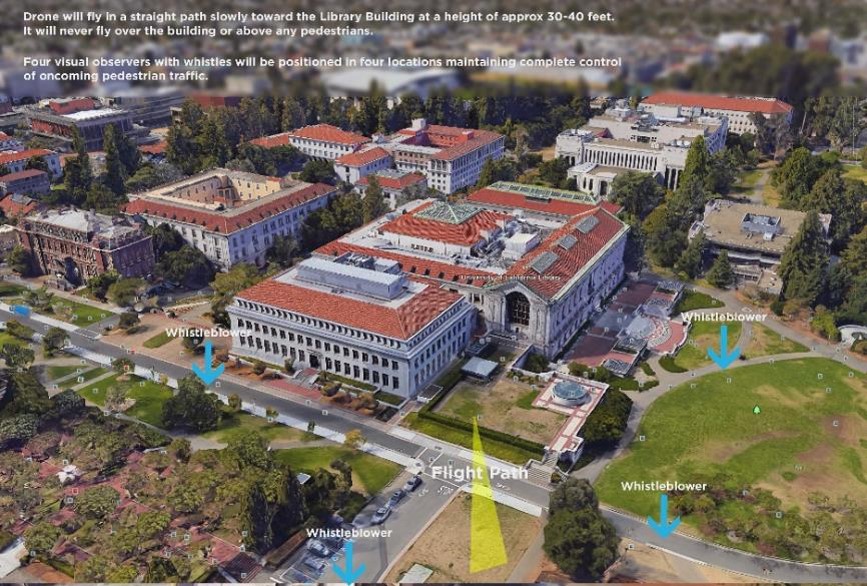 8.4

Sterile Cockpit Requirement

After the pre-flight briefing and until the completion of the final cleanup, the RPIC, all Visual Observers and all Ground Support Personnel are prohibited from engaging in non-essential duties or activities.

Example failures seen within the UC System:
RPIC became distracted while talking with a student and did not recognize that the unmanned aircraft was on a collision course with a floodlight.
An Ground Support Personnel was engaged in conversation and did not adequately check the unmanned aircraft for loose linkages in between flights, leading to an in-flight failure of the elevator.
The RPIC was interrupted by a curious bystander.
Extraneous conversation led to forgetting of the detachable wings of a fixed-wing unmanned aircraft at the lab.